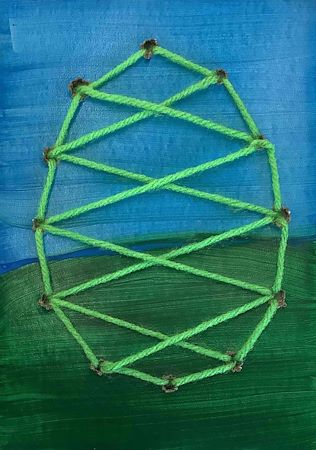 Artsonia is a gallery of student art portfolios where young artists (grades PK-12) display their art worldwide. Artsonia selects twelve random art submissions in each of four different age groups (grades PreK-3, 4-6, 7-9, 10-12) from artwork submitted the previous week. This week Fayette Academy 5th grade student, Deklan Dowdy (Artsonia screenname-Deklan64), has been selected by Artsonia as Artist of the Week in the 4th-6th Grades category. His artwork is the painted scene with a yarn-stitched Easter egg.
The artwork with the most votes wins! Voting is open to the general public every Wednesday-Saturday, with the winners from each age group being awarded on Sunday. Vote for one finalist from each of four age groups before the end of Saturday. Limit of one vote per age group per computer per day. Blick Art Materials generously donates $100 to each winning school and $50 to each winning artist.

Vote for Deklan everyday starting today through Saturday!  Click here to vote now!